Trading Clinical Trials
This article describes the significance of clinical trials, the different ways to play these events in the stock market, and provides examples.
What are clinical trials?
Pharmaceutical companies that create new drugs or medical devices need to have those products tested before they can be released in the market. The process of testing is called a "clinical trial". Clinical trials are research studies that explore whether a drug, treatment, or medical device is safe and effective for humans. There are several stages to clinical trials including Phase 1, Phase 2, Phase 3, and then final FDA Approval. A successful completion of any stage typically creates a major impact on the company's share price.
How can I profit when companies release clinical trial results?
There are three main ways that investors can use event-based trading to make extra profit. Here is an overview of each of these three moves and how you can add them into your trading strategy.
Move 1: The Initial Pop
Most clinical trial announcements happen during the after-market (after 4pm EST) or in the pre-market (before 9:30am EST). This is the most difficult move to play because after-market trading has limited liquidity (limited shares available) and the price often get overbought or overshoots the level where the stock will eventually settle that day. For these reasons, it is not recommended to play the initial move immediately after the event surfaces. Rather, it is best to plan your trades with moves 2 and 3 prior to market open.
Move 2: The Fade
The second move is the fade just after the market opens. Since event often get overbought in the pre-market, there is typically a fade or pullback in the price just after market open. For traders that are comfortable with shorting stocks or trading put options, this can be a profitable trade. However, this move is generally not recommended for new subscribers or novice traders.
Move 3: The Trend
After the price has experienced an initial fade just after market open, the stock will typically trend upward for several days to follow. This is the most profitable and safest move to play.
A quick review of the Rocket Tickers scorecards will show a very consistent upside from the market close after the alert through the following sessions. Specifically, the combined scorecards from Sept-Nov 2017 show an upside with 100% of the signals between the next market close and the peak over the next 5 days, with an average upside of over 12% per signal.
Examples
On November 27, Catalyst Pharmaceutical, Inc. (CPRX) announced positive phase 3 clinical trial results from its drug Firdapse. This was the second phase 3 trial of Firdapse, which shows statistically significant improvement for symptomatic treatment of Lambert-Eaton Myasthenic Syndrome (LEMS). Confused by those details? It doesn't really matter. Understanding the details of this new drug or the details of the study are not important in order to trade this stock. What is important is that we have identified a successful phase 3 clinical trial.
As can be seen in the chart below, the stock experienced an initial drop just after the market opened but eventually settled at a price near $3.60 per share when the market closed that day.
The time to go long on this stock was after the fade settled, which was during the second half of the day. What happened over the course of the next week is where it gets really interesting, as shown in the chart below: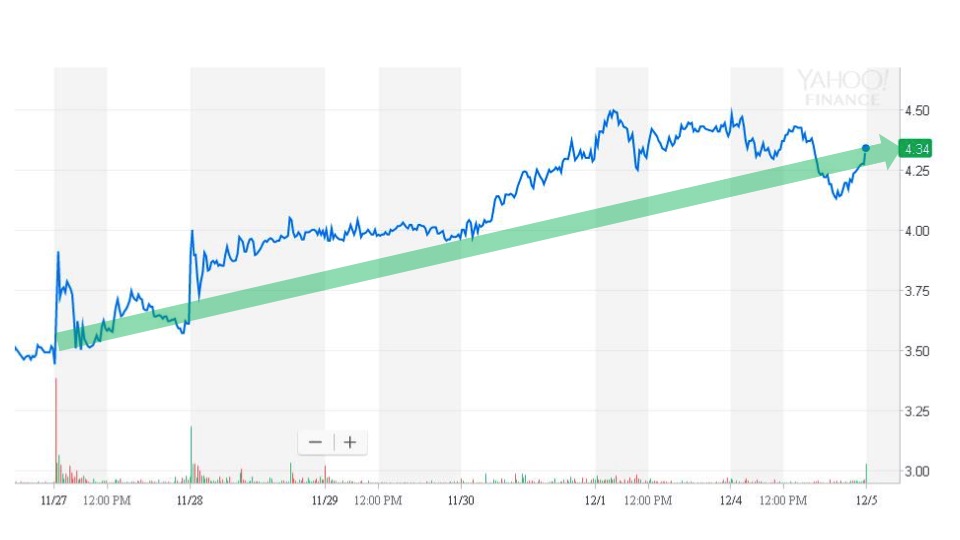 As can be seen above, over the next week the stock had an upward trend and landed at $4.34 five sessions later for a 20% upside.
Clinical Trial Alerts
If you don't want to miss out on these trading opportunities, subscribe to get an alert from Rocket Tickers when there is a new event in the market.
Check out our latest Live Webinar which provides more information about price patterns after clinical trial announcements and how to trade them.
Subscribe here if you would like to start receiving these signals in real-time and start trading!
Disclaimer
There is a very high degree of risk involved in trading. Past results are not indicative of future returns. Event Trading Technologies LLC and all individuals affiliated with this product, it's sites (including rockettickers.com) assume no responsibilities for your trading and investment results. The signals, indicators, strategies, columns, articles and all other features are for educational purposes only and should not be construed as investment advice. Information for trading observations are obtained from sources believed to be reliable, but we do not warrant its completeness or accuracy, or warrant any results from the use of the information. The signals and information provided are created by computer algorithms and are not reviewed by any human. The signals and information that is delivered is not always accurate and should not be considered investment advice. Your use of the trading observations is entirely at your own risk and it is your sole responsibility to evaluate the accuracy, completeness and usefulness of the information. You must assess the risk of any trade with your broker and make your own independent decisions regarding any securities mentioned herein. Affiliates of Event Trading Technologies LLC may have a position or effect transactions in the securities described herein (or options thereon) and/or otherwise employ trading strategies that may be consistent or inconsistent with the provided strategies.