FDA Accepts Application for Investigational New Drug From Sangamo and Bioverativ
On October 2, Sangamo Biosciences (SGMO) and Bioverativ Inc. (BIVV) announced that the FDA accepted their application for an investigational new drug (IND). The drug, ST-400, is a gene-edited cell therapy candidate for people with transfusion-dependent-beta-thalassemia. There are about 100,000 patients being treated worldwide for this disease, which requires frequent blood transfusions.
Rocket Tickers sent out an alert about at 7:30 am. The next trade for SGMO was at 9:28 for $15.35. There was an initial price surge followed by a familiar fade prior to the regular trading hours.
SGMO opened at $15 and continued an upward trend on the news before closing for the day at $16.20. Investors had the opportunity for three trades during the day – the surge, the fade, and the trend. Find out more about these three trades in The Three Moves for Event Based Trading.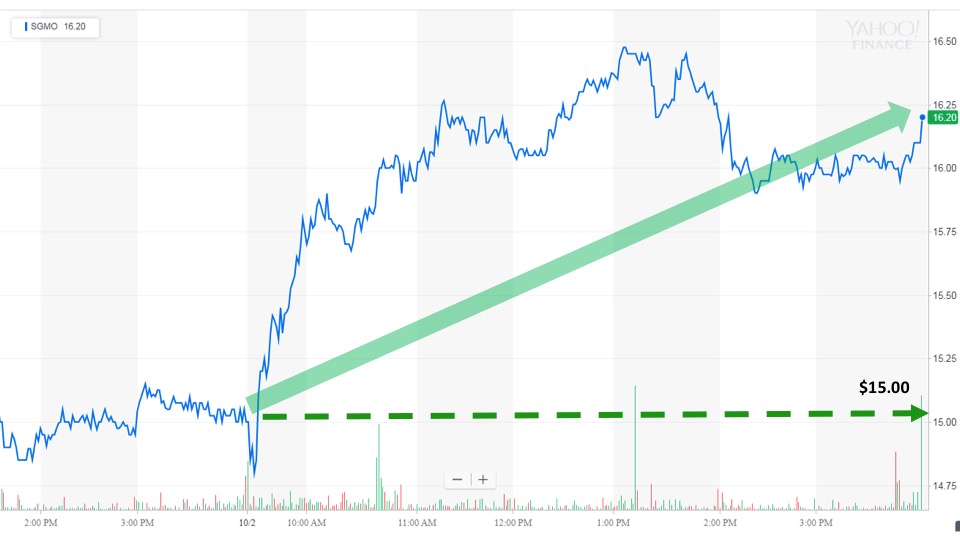 Visit the Knowledge Center for more information about clinical trials and how to trade them.
Subscribe here if you would like to start receiving these signals in real-time and start trading!