KemPharm gets FDA Approval for AZSTARYS™ to Treat ADHD
On March 2, KemPharm, Inc. (KMPH) announced that the FDA approved its New Drug Application (NDA) for the drug AZSTARYS™ (formerly referred to as KP415). The drug is a once-daily treatment for patients six-years-old and above who have attention deficit hyperactivity disorder (ADHD). AZSTARYS™ should be available as early as the second half of 2021 and provides an important new tool for physicians treating patients with this condition.
Rocket Tickers detected the event and alerted subscribers at 11:23 pm on March 22. KemPharm had last traded at 6:55 pm for $10.10. The stock price jumped above $20 prior to the market open on March 3 before pulling back to close at $13.47. KemPharm ended the day with a 33% gain.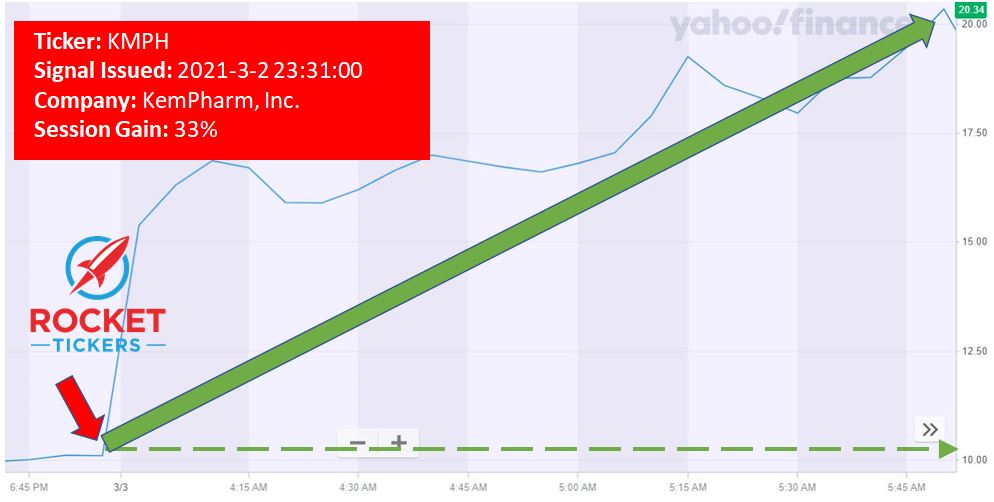 Visit the Knowledge Center for more information about clinical trials and how to trade them.
Check out our latest Live Webinar which provides more information about price patterns after clinical trial announcements and how to trade them.
Subscribe here if you would like to start receiving these signals in real-time and start trading!