Regeneron Pharmacueticals and Teva Pharmaceutical Report Positive Topline Phase 3 Clinical Trial Results of Fasinumab
On August 16, Regeneron Pharmaceuticals, Inc. (REGN) and Teva Pharmaceutical Industries Ltd. (TEVA) announced positive topline results from a Phase 3 clinical trial of Fasinumbab in patients with chronic pain from osteoarthritis of the knee or hip. After 16 weeks, the study met both co-primary endpoints as well as all key secondary endpoints. Patients treated with Fasinumab experienced significantly less pain and improved functional ability.
Rocket Tickers detected the event and sent an alert at 7:00 am. The next trade took place at 7:01 am for $22.54. Teva opened for regular market trading at $22.62. The stock price gained 7% during the event day to close at $24.11.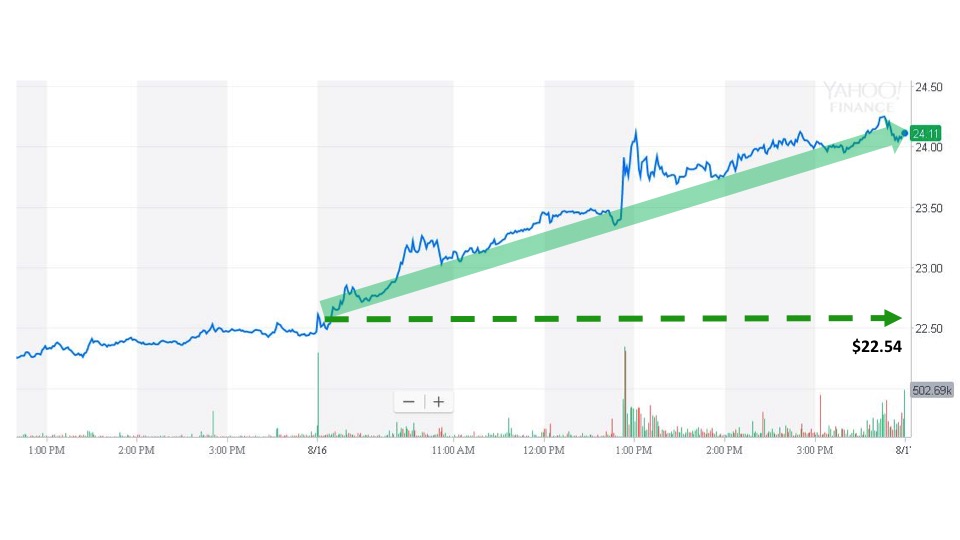 Visit the Knowledge Center for more information about clinical trials and how to trade them.
Check out our latest Live Webinar which provides more information about price patterns after clinical trial announcements and how to trade them.
Subscribe here if you would like to start receiving these signals in real-time and start trading!