Zafgen Reports Positive Phase 2 Clinical Trial Results for ZGN-1061
On June 23, Zafgen, Inc. (ZFGN) reported positive results from the company's Phase 2 clinical trial of ZGN-1061. The trial is designed to prove the drug's efficacy and safety in patients with type 2 diabetes and to establish a minimally effective dose. Zafgen reported that the patients had no treatment-related serious adverse events.
Rocket Tickers alerted subscribers about the event at 10:00 am, and the next trade was for $7.75. The stock price continued to rise throughout the day before closing at $8.99. That marks an event day gain of 16% for Zafgen.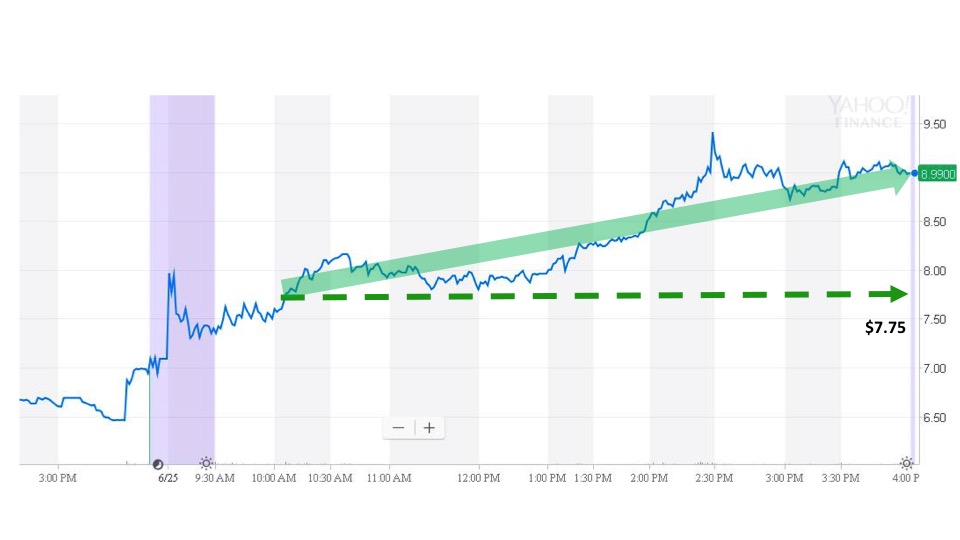 The stock price continued to rise over the next five trading days. Zafgen closed on July 2 at $9.55 for a gain of over 23% following the event.
Visit the Knowledge Center for more information about clinical trials and how to trade them.
Check out our latest Live Webinar which provides more information about price patterns after clinical trial announcements and how to trade them.
Subscribe here if you would like to start receiving these signals in real-time and start trading!